The Community United Methodist Church of Oldsmar, Florida for the last several years has put on a dinner theater fundraiser to raise money to help Haiti.
The Gospel Never Changes
Their 1999 program was entitled "The Gospel Never Changes" and was put on by the choir. The setting was a mall -- the characters were trying to work their way through changes in our social structures from joggers to punk -- the judgments, the values. The choir interlaced beautiful old traditional gospel songs throughout the play filled with a combination of laughter and deep reflections about how some things change, but God never does.
The Number's Game
In 1998 Community United Methodist Church performed a dinner/theatre with a play called "The Number's Game" a sequel to Possum on the Half Shell both written by Pastor Sharon Patch and her husband, Jim Patch
Possum On The Half Shell
In 1997 Community United Methodist Church performed a dinner/theatre with a play called "Possum on the Half Shell" written by Pastor Sharon Patch and her husband, Jim Patch who also directed. It was a political satire based in Oldsmar, Florida. The possum ends up being an accidental roadkill armadillo... funeral by Pastor Patch.
Click Here to see more pictures Dinner/Theater Pictures
Claire Allen found her own ministry to For Haiti with Love's work in the north of Haiti. While being caregiver for her husband she was pretty much housebound, so she started making dresses for the little girls in Haiti.
All frilly with lace and buttons, they are beautiful and no two alike. Then she adds the finishing touches, she includes a little bag that contains: matching panties, beads, soap, shampoo and cologne. Oh that one day she could personally see the smiles on the faces of the happy little girls receiving her blessings.
Do you sew?
Jamie's Concert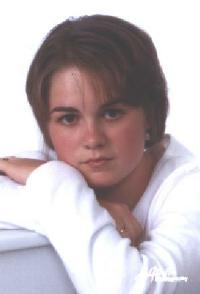 Jamie Sowers is one example of a self-motivated volunteer.
On a very cold December 20, 1998, Jamie Sowers performed a Christmas concert at 3:30 p.m. at the St. Paul's Catholic Church in Belle Forche, South Dakota.
A firm believer that talents are gifts from God that should be used to help accomplish His work, Jamie performed Christmas music and what she calls "art songs."
Art songs are poetry and Bible verses Jamie has put to music. She included the following original works in her concert: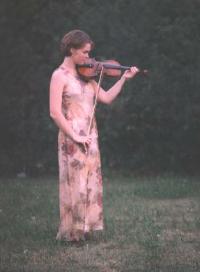 *Philippians 4:8-9 which says in part, "Fix your thoughts on what is true and good and right. Think about things that are pure and lovely, and dwell on the fine, good things in others. Think about all you can praise God for and be glad about...and the God of peace will be with you.
*"Something Beautiful for God," a poem by Mother Teresa.
*A medley of "Michael's Flight," a poem written by Jamie; "I Never Saw More," a poem by Emily Dickinson, and "Sleep, My Babe," author unknown. Photo in white dress at the piano was taken while Jamie was playing the song she wrote for her 6 year old brother, Michael, who died in January 1995.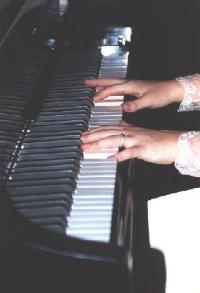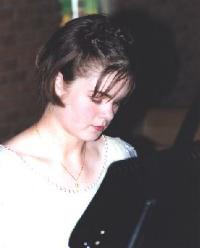 Jamie forwarded this inspirational message recently:
May God give us a pure heart so we may see Him;
A humble heart so we may hear Him;
A loving heart so we may serve Him;
A faithful heart so we may live Him.
--Dag Hammarskjold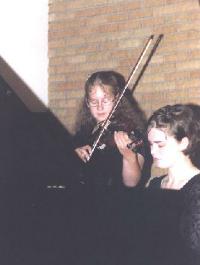 Jamie's sister, Katie, provided back up vocal parts and played the violin.
The concert was the fruit of Jamie's desire to give something real at Christmas. She raised $1,849.38. Jamie was 18 at the time.
Christmas in August Auction Items

Lots of people help out by donating things to be auctioned at our annual fund raiser dinner/auction. Some of the items donated are handmade by some very talented people.

Elizabeth Crescent spends the entire year making quilts and other items for the auction from donated materials. She has arthritis so can only work a few hours at a time, but her friends know how much it means to her to be able to help, so they make sure she has the supplies. 

 In addition to quilts, this year Elizabeth sent along hand made quilted vests, one the Christmas vest shown; she also made a clown that was very popular at the auction. 

Daughter Jessica helps display a hand stitched table drape by her Mother Lynn Stevens and "Grandma" -- Lynn is one of the faithful who always brings something to the dinner to be auctioned off.

In addition to putting up the web site, helping with computer consulting, doing the job that earns his living and serving as Director -- Ed Stevens finds time to create beautiful wood pieces for the fundraiser. In 1999 there was a music box nativity scene, a tug boat and a truck.

 

As Laurie looked over the auction items with her grandson, she had not yet thought of the idea. Later, however, she gave a week vacation at the resort where she works in Crystal Beach as an auction item to help "Christmas in August" fundraiser.

Businesses and individuals contributing included:

    AAA, Holiday, Florida
    AMC Theatre
    Ruby Brown
    Color Lab 60 - Palm Harbor
    DeeDee Crescent
    Marcella and Linda Gardner
    Robin Haas
    Healthy Way Natural Foods - Palm Harbor
    Portia Juanita Lucas
    Dr. Mayer-Hunt Clinic - Clearwater
    Laurie Meier
    Linda Molto, Artist, Cortez, Florida
    Palm Harbor Auto Service - Palm Harbor
    Parkway Foods

     Bob & Shirley Prue
       Publix Supermarkets
       Sir Speedy - Palm Harbor
       Victoria Smith
       Staples - Clearwater
       Donna Stevens
       Ed Stevens, Jr.
       Ed Stevens III
       Lynn Stevens
       John Szabo, Artist, Phoenix, AZ
       Kathy Vathis
       Dave & Joan Wallace
       Sandy Walter
       Joe Weinzettle, Artist, Tarpon Springs